Ahorra $41.00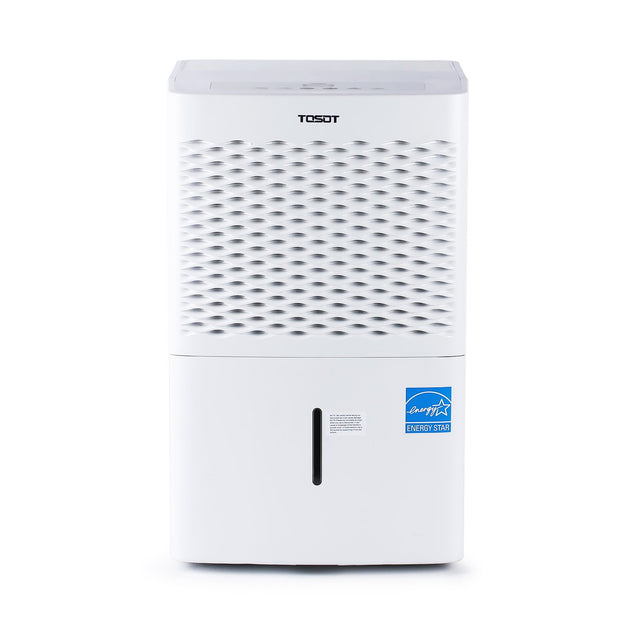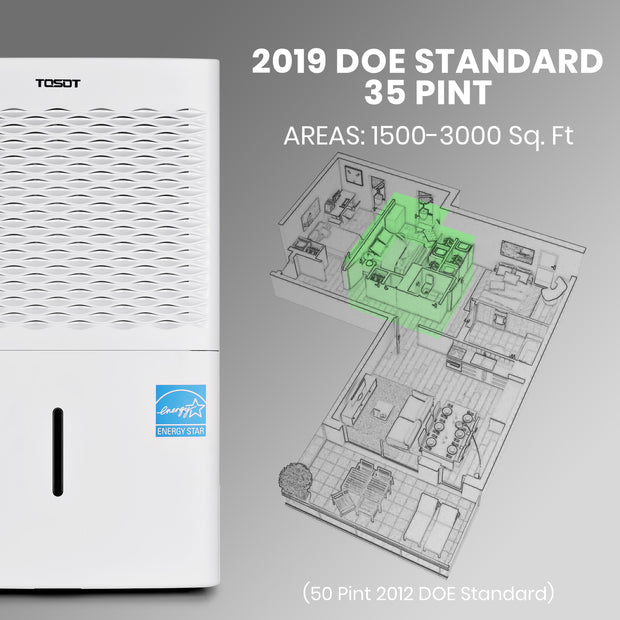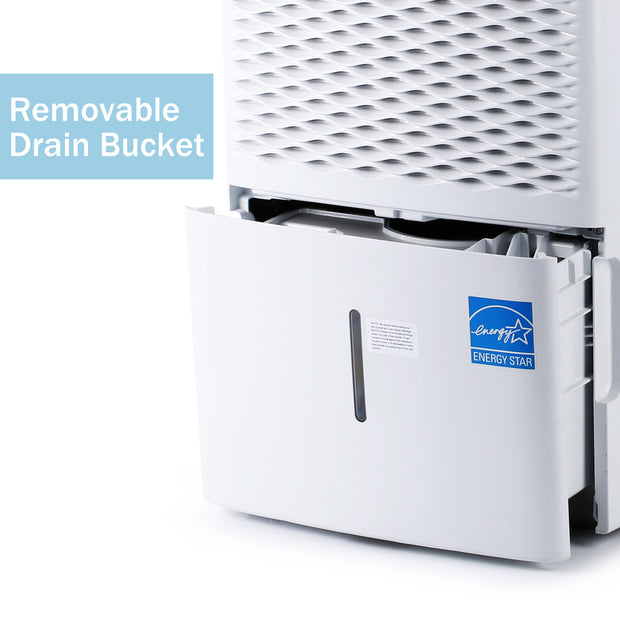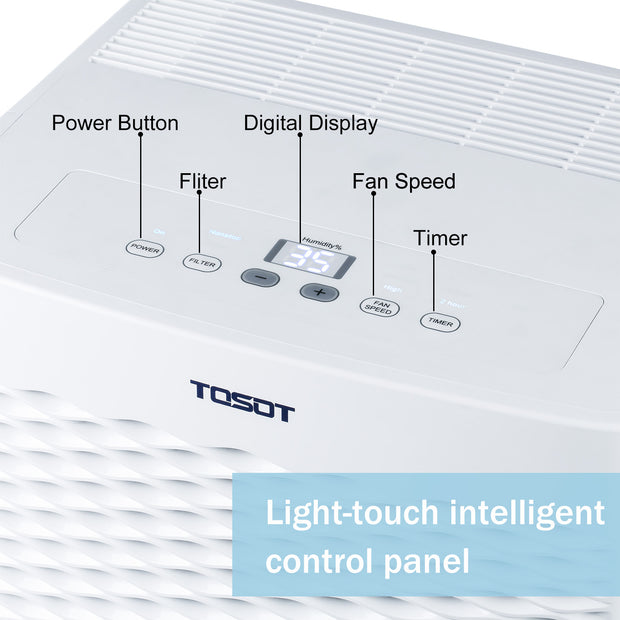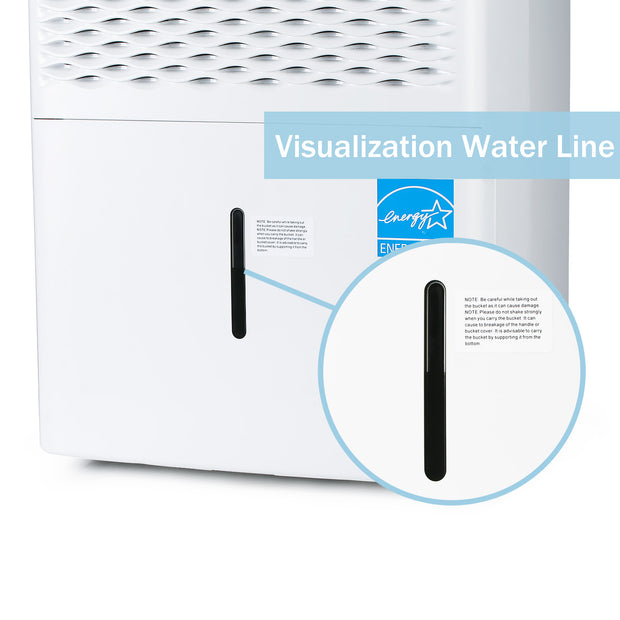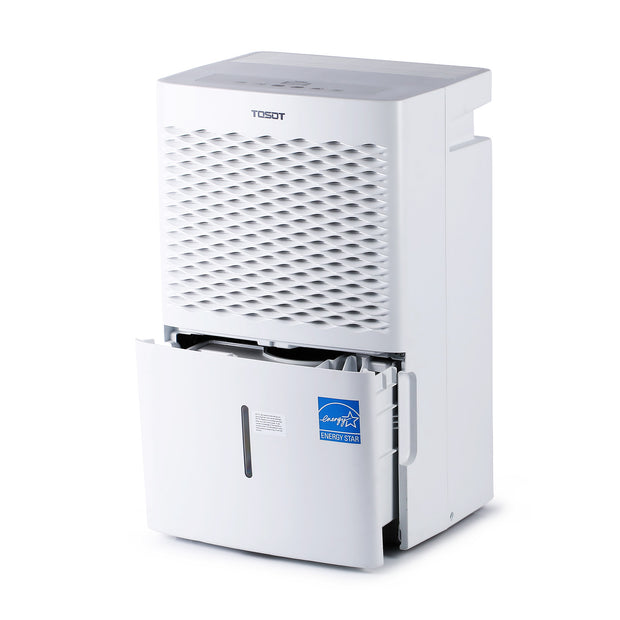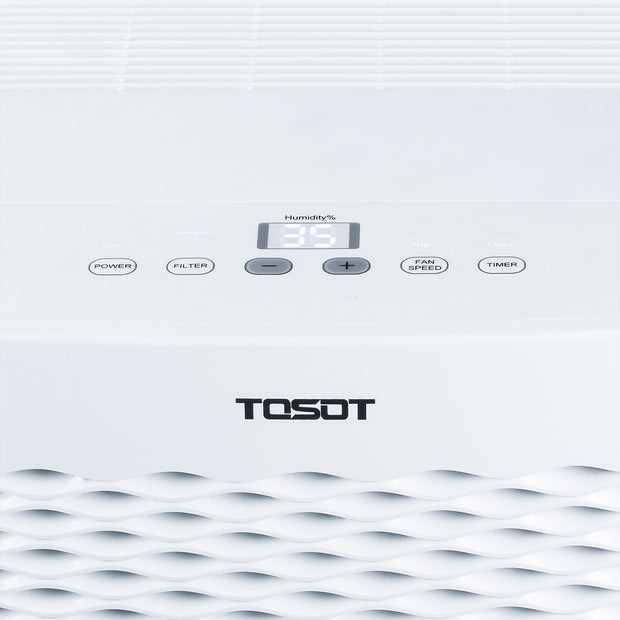 Características

Tech Specs

Valoraciones

Manuals
FAQ
Deshumidificador de Sótano
Puede que seas una de esas personas (extrañas) a las que les gusta el olor de un sótano húmedo. Eso está bien, pero cuando los niveles de humedad empiezan a alcanzar un 60% el ambiente será amigable con el moho, hongos y otros alérgenos. Al extraer la humedad de tu sótano puedes crear un ambiente más cómodo y seguro para tu familia.
Operación Silenciosa
No siempre lo ves… pero ese es el punto. Un nivel de sonido tope de 52 decibelios quiere decir que apenas te das cuenta que está ahí. Comparativamente hablando, 50 decibelios es tan fuerte como una calle aislada en un área suburbana o una conversación normal en casa.
Usando la Manguera de Drenaje
Si vaciar baldes de drenaje no es lo tuyo, puedes conectar una manguera de jardín con rosca hembra de 3/4 a tu unidad para utilizar el modo de drenaje contínuo alimentado por gravedad. Algunos clientes han encontrado que la cinta de fontanería ayuda a prevenir una manguera con fugas.
Reinicio del Suministro Eléctrico
En el caso en el que haya un corte de energía tu unidad reanudará su funcionamiento una vez que se restablezca la energía total en tu hogar. El deshumidificador volverá a la misma configuración con la que estaba operando antes del corte, por lo que no es necesario realizar ningún cambio. ¡No hay de qué preocuparse!
Deshumidificador TOSOT de 30 Pintas

Deshumidificador TOSOT de 50 Pintas
Deshumidificador TOSOT de 70 Pintas
Deshumidificador TOSOT de 70 Pintas con Bomba Interna
&

Eliminación de humedad máxima en 24-Horas;

30 Pintas (aprox. 4 galones)
50 Pintas (aprox. 6 galones)
70 Pintas (aprox. 9 galones)
70 Pintas (aprox. 9 galones)
Tamaño del Balde
8 Pints (aprox. 1 galón)
16 Pints (aprox. 2 galones)
16 Pintas (aprox. 2 galones)
16 Pints (aprox. 2 galones)
Opciones de Drenaje

Balde, Manguera de Drenaje

Balde, Manguera de Drenaje

Balde, Manguera de Drenaje

Balde, Manguera de Drenaje, Bomba Interna

Certificación Energy Star
Sí
Sí
Sí
Sí

Volúmen Máximo de Flujo de Aire



106 CFM
206 CFM
206 CFM
206 CFM

Drenaje Contínuo por Gravedad Disponible?



Sí
Sí
Sí
Sí
Perfecto para

Apartamento, Habitación, Garaje, Sótano Pequeño

Sótano, Sala,Condominio, Casa

Garaje, Casa, Sótano Grande

Garaje, Casa, Sótano Grande sin drenaje de piso



CAPACITY

Dehumidification (pts/day)

35.27

Power Rating

115V/60Hz
Compressor Type
Rotary

Amps

4.8
Refrigerant Type
R410A

Watts

540
Noise Level (H/M/L) dB(A)
50/48/46
Plug Type
3 prong plug

Air Flow Volume(H/M/L) CFM

159/141/118
DIMENSIONS & WEIGHTS

Packaging Dimensions

(W×H×D) (inches)

15.47 × 12.60 × 24.41

Unit Dimensions

(W×H×D) (inches)

13.70 x 21.85 x 10.63
Approximate Shipping Weight (lbs)
39.7

Approximate Shipping Weight (kg)

18
Approximate Net Weight (lbs)
36.4
Approximate Net Weight (kg)

16.5

Cord Length(ft)
5
Size of the Gravity Drain Hose
Garden hose with ¾" female connection
FEATURES

LED Display (Set Humidity)
Yes
Ambient Humidity Display
Yes
Memory
Yes

Auto Restart

Yes
Fan Speed
3
Fan Type
Centrifugal

Bucket Pints

9

Bucket Full Indicator Lamp

Yes
Bucket Loading Direction
Slide

Bucket Type

Removable
Automatic Defrost
Yes
Washable Air Filter
Yes

Tank Filled Protection

Yes
Temperature Operation Range (°F)
41/90
External Drain Connector
Yes
Set Humidity Range (%)
35/80
Timer
2/4 hours ON/OFF
Easy Roll Casters
Yes
Energy Star & UL Certified
Yes
Built-in Pump
No
1. Qué tan pesado es el balde de agua cuando está lleno?
A completely full drain bucket on the 35 Pint model weighs approximately 8lbs.
2. What is the length of the cord?
The cord is 5 feet in length from base to plug-in.
3. Can we use a garden hose as a gravity drain hose?
Yes, that is the recommended type of hose for gravity drainage. Just make sure it has a ¾" female connection.
4.Un deshumidificador necesita filtros?
No, TOSOT dehumidifiers use a replaceable filter that should be cleaned every 30 days of operation. A filter light on the display screen will illuminate reminding you it is time for cleaning. You can use warm water and a mild detergent to clean your filter.
Having a problem to locate the filter? Please check this link and find the guidance. https://www.youtube.com/watch?v=xbja3sINWeY
5.Qué tamaño debo elegir?
Variable factors determine ideal dehumidifier size: 1) RH% (relative humidity percentage) how humid or moist is your room typically. 2) Size of area: 1500 sq ft, 3000 sq ft, or 4,500+ sq ft. If in doubt, go with the larger option. You can check out our guide for selecting a dehumidifier aquí.
6.What is the operating temperature range for this unit?
Please avoid exposure to freezing cold (below 41℉) or excessive heat(above 90℉).
7.Does the bucket have a handle?
Yes, there is a handle on the bucket, so you could empty the bucket easily by grasping the handle.
8.La máquina se reinicia automáticamente después de un corte de energía?
Yes, in the event of a power outage, the unit will power back on when power is back online.
9.Will a dehumidifier help the air conditioner cool the air?
Yes, the portable dehumidifier helps the A/C in your home. Dehumidifiers can reduce the humidity out of the air allowing your A/C to work less often and more efficiently, saving on your energy bill and making your environment more comfortable.
Other questions?
Please refer to the FAQ page aquí for more details or contact us at support@tosotdirect.com