While it is only April, the temperatures here in Los Angeles are slowly increasing. The shorts and flip-flops back on the streets are early signs that summer is approaching. Living in places like Los Angeles, where the temperature can be as high as 95 degrees, without air conditioning can be painful. 
This blog is for those who haven't decided on which type of AC they need at home. We will walk you through the pros and cons of portable AC, window AC, and mini-split AC from five crucial aspects: installation, cooling power, noise level, maintenance, and cost. Hopefully, this can help you find the air conditioner that best meets your needs.
Click to see,
4. Summary & Comparasion Table 
Window Air Conditioner: Energy Saver and Low Maintenance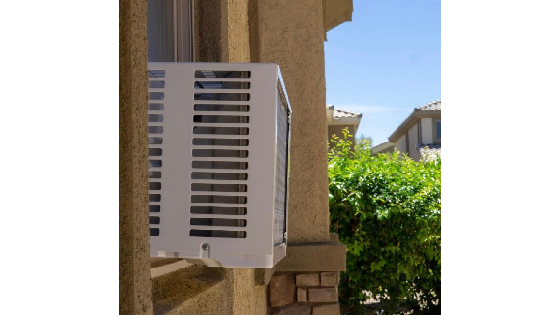 Window air conditioners are considered the most common type of AC in the United States. People enjoy using it because of its easy installation and comparatively lower cost. Most of the popular Window AC products in the market all have an Energy Star certification, which means you can save at least 15% on your electric bill per year. 
The installation process is relatively simple, meaning even those who have no experience in DIY can easily finish the job. The window air conditioner does not require much maintenance either, with just cleaning the air filter every two months as the only requirement. 
The unit is built as one with all components inside. When the unit is installed in a window or through a wall, it hardly blocks out the noise from the compressor,  so you will still hear when the machine is running. 
The largest BTU of window air conditioners in the market is only 12,000 for most 115 volt systems. If you need to find an air conditioner that can cool spaces over 550 square feet, a window air conditioner may not be the best option for you.
Portable Air Conditioner: Move to Different Rooms, Best for Small Areas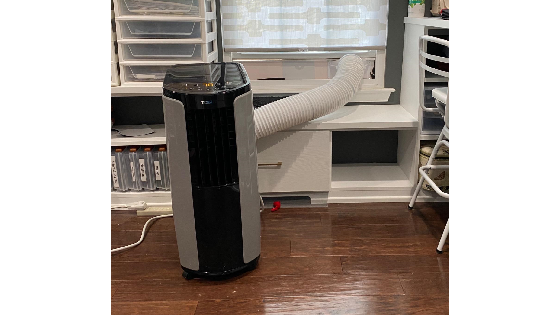 With built-in wheels and handles, portable ACs can be moved from room to room. You can move it to your bedroom at night and shift it to the living room when your family visits. All you need is a power outlet and an exit for the exhaust hose to remove the hot air that is produced. 
Portable ACs will be the best choice for those who need temporary relief from the heat or live in a rental house without central air conditioning. You can remove the exhaust vent and wheel the unit to the storage room in winter, clearing up space for other appliances.
Similar to the window AC, portable air conditioners also come with an easy-maintenance air filter. Under most circumstances, you do not need to drain the condensation as it will evaporate in the unit automatically. However, for those who live in a humid area, drainage can be a problem. 
Portable AC is also a self-contained unit with all its components built inside. During operation, a portable AC unit can be a little noisy, and as it vents hot air through an exhaust hose, the cooling capacity is unlikely to be enough for the large room. 
Ductless Mini Split: Low Noise for Extra Large Areas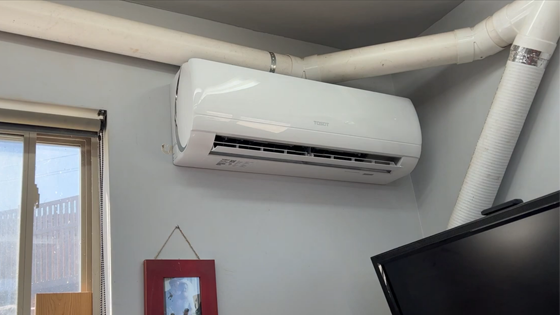 If you are seeking an air conditioner for an extra-large room, a ductless mini-split will be your best choice. 
A ductless mini-split air conditioner is a combination of an outdoor unit with a compressor and a condenser and an indoor unit equipped with air blowers. 
Typically, the indoor unit is mounted on the wall. Pipes connect the indoor and outdoor units, and the refrigerant circulates according to the usage. As the compressor is placed outside the house, the operating noise will be so quiet that you can barely hear it. 
Mini-split type air conditioners are regarded as the most efficient cooling system when compared to the window or portable units.  However, the installation process can be troublesome if you are not mechanically inclined. You might need to hire a professional to finish the installation. 
Regular maintenance is a bit more complicated than the portable and window ACs as well. Beyond basic air filter cleaning, you need to clean the condenser coils or occasionally check for any ice buildup on the refrigerant lines. Failure to do so might result in damages to your expensive interior components.
Summary
If you are looking for an air conditioner for spaces over 600 square feet, we suggest that you pick the ductless mini-split. 
If portability and convenience are what you value most, then the portable air conditioner won't let you down. 
If you have a limited budget and prefer a hassle-free appliance, the window air conditioner will be your choice.
The table below can give you a general idea of each type of AC's pros and cons. Pick your best choice before the heat arrives! Shop Now!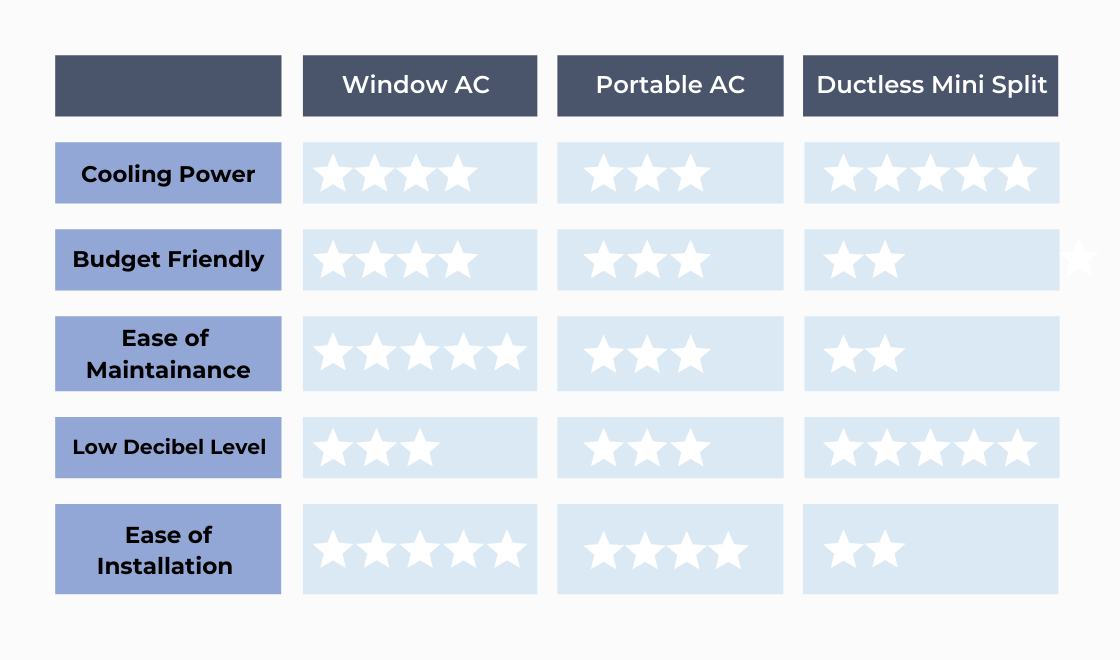 Do you have any additional questions? Feel free to contact our customer service team at support@tosotdirect.com.
Use information at your own risk:  The information presented is intended for educational purposes only and is not intended to be a substitute for professional advice, diagnosis, or treatment. Never disregard professional medical or home improvement advice. The information and suggestions should be discussed with a professional.  You are responsible for independently verifying the information if you intend to rely upon or use it in any way. You use all information at your own risk.